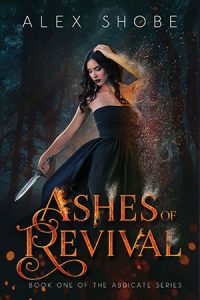 "About Ashes of Revival:
The first reigning queen of Erenen, Leona D'Auron's father had groomed her to be submissive to satisfy their male-dominated society. Now, her decisions are questioned at every turn by those sworn to follow her. Traditions mandate that she attends the weekly gladiator games, where criminals fight to the death in the arena as nobles cheer from the stands.
When she breaks tradition and frees those enslaved to the games, it comes at a greater cost than she could've imagined. A failed assassination attempt unleashes a darkness within her—a darkness that goes against everything she's been taught. She once ran from the bloodshed. Now, she sprints toward it. And for those who underestimated her…she's out for revenge.
Targeted Age Group: 18-30
Written by: Alex Shobe
Buy the ebook:
Buy the Book On Amazon
Buy the Print Book:
Buy the Book On Amazon
Author Bio:
I am a dark fantasy author who usually sacrifices sleep in order to get my writing done. When I'm not pounding keys at the computer, I'm taking care of my two young daughters and husband.
Follow the author on social media:
Learn more about the writer. Visit the Author's Website
Twitter
Instagram
This site contains affiliate links to products. We may receive a commission for purchases made through these links.