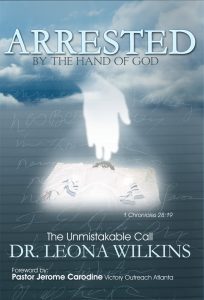 About ARRESTED By THE HAND OF GOD The Unmistakable Call:
God is still speaking, is it the voice of a stranger, in your ears…
It was three o'clock in the morning when a former healthcare provider, had a divine visitation, by the manifested presence of Almighty God via the Holy Spirit. During the visitation damsel's life was totally changed, her divine purpose was revealed, her husband, to be, was called by name, and because of that revelation, she married a man she really did not know, she never dated nor had sexual pleasures with, prior to marriage and everyone who knew, thought that she was crazy!
Although, a bit strange and out of the norm, the visitation was a welcomed encounter. The doctor had been seeking the Lord, for many years, regarding her divine destiny, true purpose, husband to be and she yearned, for a more intimate relationship with Almighty God, through Christ Jesus!
God is still speaking, so if you are longing to hear the voice of God more clearly and also desire to develop a more intimate relationship with Almighty God in Christ, read on for an amazing discovery, of how!
Buy the ebook:
Buy the Book On Amazon

Author Bio:
Dr. Leona Wilkins, is a retired healthcare professional who was escorted into ministry by the manifested presence and Hand of God in September 2001. After a critical meeting with her spiritual father, she began "The Process of Preparation." The divine visitation and preparation process has left a true mark of change on her life. She has been maimed for the Body of Christ and the furtherance of the Gospel of Jesus "The Christ" of Nazareth.
During the ministry preparation process, the Lord birthed her first book entitled ARRESTED, By The Hand Of God The Unmistakable Call!
Dr. Wilkins is married to Frank Wilkins, an entrepreneur. She is currently writing her next book which will be dedicated to singles, coming soon, so stay tuned!
Follow the author on social media:
Learn more about the writer. Visit the Author's Website
Twitter
This site contains affiliate links to products. We may receive a commission for purchases made through these links.