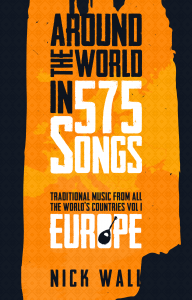 "About Around the World in 575 Songs : Traditional music from all the world's countries Volume 1 – Europe:
For four weeks only from January 15th, Volume 1 of my new four volume world music series is available at a $0.99 promotional price.
Around the World in 575 Songs is a guide to the music and cultural history of 200 countries, packed with fascinating stories about some of those musicians who've breathed new life into dying musical traditions. The four volumes (1 Europe, 2 Africa, 3 Asia & Oceania and 4 Americas) were published last autumn, and as a bonus, they come with a website, where you're never more than a couple of clicks away from listening to music from any country in the world.
I'm the author, I live near Liverpool, and this is my first publication. I collected traditionally based music from every country in the world – from countries large and small, from Kazakhstan to Kiribati – streamed the selected songs on a website, and wrote a book based around the songs chosen. Are you interested in the criteria that I used to select the songs ? I explain this on the project website.
The books are aimed at anyone with a passion for exploring other cultures. Chapter by chapter, I try to demonstrate that every country is special, and worthy of attention. Along the way I tell the stories of artists who've fought against the tide of globalisation and tried to keep alive music that's rooted in traditional culture. Many of the stories are of minority cultures, and I discover how musicians contributed to kindling new hope among oppressed minorities and indigenous people.
"Nick Wall presents us with a thoroughly readable, well-researched and stimulating analysis of the sheer variety of music across the world. Every section stimulates the reader to explore the music on the website – and beyond. At the same time, we are encouraged to engage with the cultures, history and personalities of every single country. That's no mean feat." – Fatea Magazine
Targeted Age Group: 16 and over
Written by: Nick Wall
Buy the ebook:
Buy the Book On Amazon
Buy the Book On Barnes & Noble/Nook
Buy the Book On Apple Books
Buy the Book On Kobo
Buy the Print Book:
Buy the Book On Amazon
Buy the Book On Barnes & Noble/Nook
Author Bio:
Nick Wall studied English Literature at Cambridge University. Ten years ago he started a music blog which has had over 3 million hits, and from it evolved the 'Around the World in 575 Songs' project. Nick carried out the entire research and writing of these books while working full time as a civil servant. During this five year period the books took over his life as the project grew in scale. Having set out to write one book, Nick ended up publishing four !
Follow the author on social media:
Learn more about the writer. Visit the Author's Website
Twitter