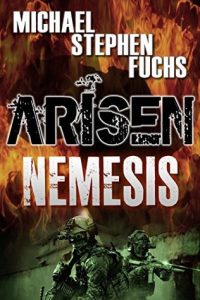 "About ARISEN : Nemesis:
ARISEN : NEMESIS is now an Amazon #1 bestseller in Post-Apocalyptic Science Fiction and #1 in Dystopian. Can be read as a standalone novel, an intro to the series, or at any point alongside the main series.
ARISEN
Hope Never Dies.
Between the fall of man and the arrival of the JFK, the Horn of Africa is a battleground.
Salvation. Vengeance. Vanity.
Targeted Age Group: 18+
Written by: Michael Fuchs
Buy the ebook:
Buy the Book On Amazon

Buy the Audio Book:
Buy the Book On Amazon
Buy the Book On Audible
Buy the Print Book:
Buy the Book On Amazon
Author Bio:
GLYNN JAMES, born in Wellingborough, England in 1972, is an author of dark sci-fi novels. In addition to co-authoring the bestselling ARISEN books he is the author of the bestselling DIARY OF THE DISPLACED series. More info on his writing and projects can be found at www.glynnjames.co.uk. MICHAEL STEPHEN FUCHS, in addition to co-authoring the bestselling ARISEN series, wrote the bestselling prequel ARISEN : GENESIS. He is also author of the D-BOYS series of high-concept, high-tech special-operations military adventure novels, which include D-BOYS, COUNTER-ASSAULT, and CLOSE QUARTERS BATTLE (coming later in 2014); as well as the acclaimed existential cyberthrillers THE MANUSCRIPT and PANDORA'S SISTERS, both published worldwide by Macmillan in hardback, paperback and all e-book formats (and in translation). He lives in London.
Follow the author on social media:
Learn more about the writer. Visit the Author's Website
Facebook Fan Page
Twitter
Instagram