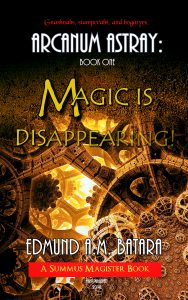 "About ARCANUM ASTRAY: MAGIC IS DISAPPEARING! (Book One of the Summus Magister Series):
UPDATED EDITION (November 2018).
From the Author of The Accidental Archmage Series – The Summus Magister Series.
Mystery, humor, magic, and archaic words await!
Enter an Earth where magic history took a detour. Where science and magic co-exist. Trains and magic carpets. Detectives and demons. Demons and professors.
Explore the world with Professor Lucius K. Henry, High Mage and magical detective extraordinaire. Sherlock with magic. And trains, flying carpets, mages, deadly enigmas, spies, vampires and other such unsavory creatures, books of ill repute, and much, much more.
But something is terribly wrong. Magic is disappearing.
Targeted Age Group: 16 up
Written by: Edmund A.M. Batara
Buy the ebook:
Buy the Book On Amazon
Author Bio:
Active Member, Science Fiction and Fantasy Writers of America (SFWA)
A Goodreads Author
Writer – The ACCIDENTAL ARCHMAGE Series, the ARCANUM ASTRAY SERIES, PLANAR WARS Series, and the MANUS DEI Series.
Fantasy and science fiction have always been my favorites. I grew up with the stories. Especially those from the era of dime novels and genre magazines, the time when both fields were deemed fringe areas of fiction. Stories that spark the imagination and bring a reader to worlds and concepts beyond his reality. Though I have to admit, fact is fast catching up with science fiction.
I write fiction anchored on a familiar fact – be it mythology, historical events, existing mythos, or even a physical feature. Something that one knows exists in the real world. It makes immersion in the grand adventure easier and more enjoyable. A book may be an author's creation, but it doesn't mean there couldn't be a common point of reference between the writer's story and the reader's experience. Or even between readers.
I started writing as a hobby. On free serialized novel websites. For the pleasure of writing and sharing one's stories. I was fortunate that other people found them engaging and enjoyable. To my readers, thanks!
There are innumerable worlds out there. Explore, let your imagination fly. Unlike the protagonists in the stories, there is no dark Elder god, a tentacled monstrosity, a stabby assassin, a vampire or ten, or a vengeful deity waiting outside your door. Nor will opening a book suck you into a separate dimension. Maybe.
Enjoy the voyage. Have fun.
Follow the author on social media:
Learn more about the writer. Visit the Author's Website
Facebook Fan Page
This site contains affiliate links to products. We may receive a commission for purchases made through these links.