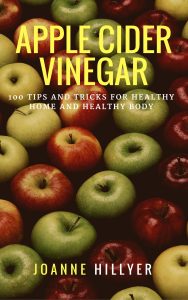 "About Apple Cider Vinegar: 100+ Tips and Tricks for Healthy Home and Healthy Body:
This book explores the many benefits of apple cider vinegar (ACV). ACV has a multitude of benefits for health, beauty, cleaning, and first aid. ACV contains many essential vitamins, minerals, and micronutrients that help prevent disease and support the growth of beneficial bacteria in the gut. In addition, by helping to boost your body's metabolism, ACV helps burn fat faster and promotes weight loss.
Apple cider vinegar is made from apple juice or cider, the alcoholic beverage made from fermented apple juice. It usually appears pale to medium amber in color. ACV is commonly used in salad dressings, vinaigrettes, marinades, and food preservatives. But did you know it also has countless benefits for body care, beauty, cleaning, and first aid?
Apple cider vinegar contains many nutrients that your body needs: essential vitamins, minerals, organic acids, amino acids, and polyphenolic compounds (micronutrients that help prevent diseases). ACV also contains pectin, which is an insoluble fiber that can be found in fruits and plants. Pectin is rich in fiber, so your body can benefit greatly from consistently including ACV in your daily regimen. It is a good prebiotic, which supports the growth of probiotic bacteria and promotes a healthy gut.
Not only can it be used in a salad dressing and other recipes, ACV also has traits that make it ideal for cleaning your home, tenderizing and preserving meat, reducing the burn of a sunburn, improving acne and dandruff, and protecting your pets from fleas. But perhaps its most well-known application is for weight loss. Apple cider vinegar is a "superfood" that can aid in losing weight, naturally and safely. As a bonus to eating healthy and exercising, apple cider vinegar will help boost your body's metabolism, thereby letting you burn fat faster and eventually losing excess weight.
Here is a preview of what's included:
– What is apple cider vinegar?
– Apple cider vinegar for cooking
– Recipes that use apple cider vinegar
– Apple cider vinegar to keep your home clean
– Apple cider vinegar for your skin
– Apple cider vinegar for your hair
– Apple cider vinegar for the body
– Lose weight with cider vinegar
– Apple cider vinegar as treatment
– Secrets of the apple cider vinegar diet
– And much, much more!
And here are just some of the amazing apple cider vinegar recipes inside this book:
– Apple cider vinegar drinks for health
– Vinaigrettes and dressings
– Seafood recipes including halibut, salmon, and sardines
– Vegan, vegetarian, and gluten-free mains and side dishes
– Tons of salads
– Main dishes using chicken and pork
– Sauces and sweets
Targeted Age Group: adults
Written by: Joanne Hillyer
Buy the ebook:
Buy the Book On Amazon

Author Bio:
Joanne Hillyer has a lifelong interest in wellness, healthy eating, alternative medicine, and the outdoors. She is especially interested in using easily found tools and ingredients for improving healthy living. Born and raised in the Pacific Northwest, she enjoys the great outdoors, travel, cooking, and walking.
Follow the author on social media:
Learn more about the writer. Visit the Author's Website
This site contains affiliate links to products. We may receive a commission for purchases made through these links.