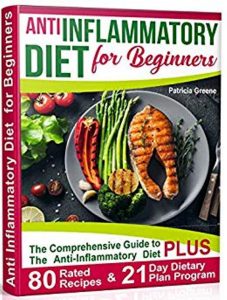 "About Anti Inflammatory Diet for Beginners: A Comprehensive Guide to The Anti-Inflammatory Diet plus 80-Rated Recipes & 21-Day Dietary Plan Program:
Learn how to Revitalize Your Life, Fight Inflammation, and Enjoy Delicious Meals while Restoring Your Healthy Weight.
The Anti-Inflammatory Diet for Beginners guidebook and cookbook will become your most comprehensive and informative dietary guideline. It will primarily instill in you a better understanding of the favored and forbidden foods to prepare yourself towards the proper implementation of this revolutionary nutritional program.
The handbook further provides you with a variety of 80 inspiring and delectable anti-inflammatory recipes, categorized under breakfast, lunch, dinner, snacks, and desserts. Let these easy-to-prepare recipes comprise your anti-inflammation daily meal plans.
Targeted Age Group: G
Written by: Patricia Greene
Buy the ebook:
Buy the Book On Amazon

Author Bio:
I not only write recipes for every day meals, but also strive to work on all kinds of health-oriented diet plans, including ketogenic, alkaline, anti-inflammatory, acid reflux, paleo diets, etc. These special diet plans are important for all those struggling with various healthy complexities, and it gives great pleasure that I am able to bring both good health and great flavors to the lives of such individuals. I gained my experience a bit from learning, a lot from practice, and mostly from travelling around different places and exploring new culinary cultures.
This site contains affiliate links to products. We may receive a commission for purchases made through these links.