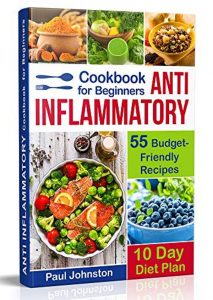 "About Anti Inflammatory Cookbook for Beginners: 55 Budget-Friendly Recipes. 10 Days Diet plan:
The Life-Changing Anti-Inflammatory Diet and Meal Plan To Restore Your Health
So much in life is beyond our control.
Chronic inflammation does not have to drag you down, sap your energy, or contribute to poor health any longer. Learn how to reverse chronic inflammation through simple dietary changes with Anti Inflammatory Cookbook . It reveals the causes of inflammation and provides a how-to prescription for eliminating it through diet changes, stress reduction, and healthy weight loss.
• The Complete information about Anti-Inflammatory Diet, How the Anti-Inflammatory Diet helps To Restore Your Health
• An introduction to the Anti-Inflammatory Diet
• Tips to make the transition easier
• Tips to help you found causes of inflammation and provides a how-to prescription for eliminating it through diet changes, stress reduction, and healthy weight loss.
• More than 50 easy, tasty healthy recipes for eliminating inflammation through dietary changes.
The Anti-Inflammatory Diet Cookbook for Beginners in 10 days is an indispensable anti-inflammatory diet cookbook and meal plan with one goal: to transition you to a healthier lifestyle that supports your immune system. Discover how an autoimmune diet can be easy, convenient and filled with variety and flavor.
The Complete Anti-Inflammatory Diet Cookbook for Beginners will help you to begin healing your chronic inflammation sooner than you think with everything you need for making this healthy change.
I look forward to getting you started on some of my most favorite recipes that I've ever shared. Trust me, it's worth it!
Targeted Age Group: G
Written by: Paul Johnston
Buy the ebook:
Buy the Book On Amazon

Author Bio:
I'm a passionate foodie and a chef by profession; I enjoy writing cookbooks and recipes while bringing something new out in the light. Cooking is as creative as any form of art, and it takes as much creativity to bring all sorts of ingredients together in a delightful and flavorsome blend, just like any other great masterpiece. This is what I look for while conceiving an idea for a cookbook.
I not only write recipes for every day meals, but also strive to work on all kinds of health-oriented diet plans, including ketogenic, alkaline, anti-inflammatory, acid reflux, paleo diets, etc. These special diet plans are important for all those struggling with various healthy complexities, and it gives great pleasure that I am able to bring both good health and great flavors to the lives of such individuals. I gained my experience a bit from learning, a lot from practice, and mostly from travelling around different places and exploring new culinary cultures.
I am greatly fascinated by the cultural diversity of the world and aspire to try all possible cuisines, so that I would get to share them with all. Cooking nutritious food can be easy and fun, if we are well guided about the basics of a diet, and this is my vision as a 'cookbook writer' to be a torchbearer for those who are struggling with health problem or having a difficult time in the kitchen.
Keep following my work and help me improve my work through your honest feedback.
Enjoy!