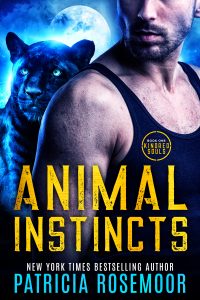 "About ANIMAL INSTINCTS:
Half-human, half-Kindred, Luc Lazare doesn't want more complications in his life. He's focused on protecting his shapeshifting family and love is the last distraction he needs.
Skye Cross has the ability to talk to animals. Her most recent animal rescue mission–stopping an alleged dog fight–actually involved shifters in a primal battle. Her investigation leads her to Luc, a man whose powers both unsettle and intrigue her. Skye quickly finds herself caught in a dangerous world she never knew existed, while relying on a man she couldn't possibly trust.
Coming from two different worlds, can Luc and Skye overcome the obstacles fated to keep them apart?
Targeted Age Group: 18-58
Written by: Patricia Rosemoor
Buy the ebook:
Buy the Book On Amazon
Buy the Book On Barnes & Noble/Nook
Buy the Book On Apple Books
Buy the Book On Kobo
Buy the Print Book:
Buy the Book On Amazon
Buy the Book On Barnes & Noble/Nook
Author Bio:
New York Times and USA Today bestselling author Patricia Rosemoor has had 100 novels with 8 publishers and more than 7 million books in print. Always fascinated with "dangerous love," Patricia combines romance with crime in her stories. She has won a Golden Heart from Romance Writers of America and two Reviewers Choice and two Career Achievement Awards from Romantic Times BOOKreviews, and in her other life, she taught Popular Fiction and Suspense-Thriller Writing at Columbia College Chicago.
Patricia also wrote with partner Linda Sweeney as Lynn Patrick and Jeanne Rose. Check out the page with their backlist books.
Follow the author on social media:
Learn more about the writer. Visit the Author's Website
Facebook Fan Page
Twitter