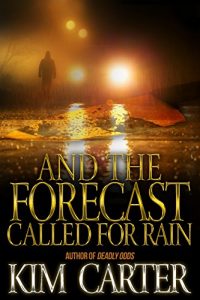 About And The Forecast Called For Rain:
"Another amazing new mystery release by award-winning Author, Kim Carter that keeps you on the edge of your seat till the END!"
Raining Murder in Seattle and Detective Ramirez knows that it's only a matter of time before their perpetrator strikes again as profiling a killer is proving to be difficult…
Detective Jose Ramirez and the Sierra Hills Police Department are scrambling for leads on a killer who has already struck five times, each time leaving his signature trademark: large butcher knives piercing the abdomens of his young female victims. As if Ramirez isn't frustrated enough, to his dismay, he is assigned a partner. Officer Daniel Chatham, a handsome, young man, fresh out of grad school, has pulled some strings to join the division and becomes Ramirez's, right-hand man. The lead detective's anger slowly begins to dissipate as he discovers the 'book smart kid' can be quite the asset.
With Ramirez's experience, Chatham's sharp mind and quick thinking, and the insight of Erin Sommers, a beautiful, young journalist, the three make a powerful team gaining on their criminal.
It's raining… it's pouring, and a killer is on the loose in the rainy Sierra Hills of Washington State. No one is who they seem, and the plot thickens with every turn. You'll never guess the ending of this enigmatic tale…
Buy the ebook:
Buy the Book On Amazon

Author Bio:
An Award-Winning Writer and Author, Kim Carter has released her new mystery titled;" And The Forecast Calls For Rain" a gripping thriller that has you guessing "who done it" until the end! She loves writing mystery books and this is #6 for all her avid readers.
"I've been writing mysteries since 1999 when I became ill and housebound for a couple of years. I always loved reading and figured I'd try my hand at writing. Those novels remained on my computer for years before friends encouraged me to put them in print. It's been quite the ride! I live in Atlanta, Ga with my husband and three retired Greyhounds. I have three grown children, no not the Greyhounds, none of which have given me any grandchildren yet. Just adding that, should they read this and need reminding. LOL…. I love sharing my novels with readers and enjoy attending book clubs that choose my novels. It is such a humbling experience to know that someone picked your book to read when there are so many wonderful authors to choose from!"
She is a college graduate of Saint Leo University, has a Bachelor Degree of Arts in Sociology, and now has become a career writer and author. She lives in Atlanta, Georgia. Between reading and traveling with her beautiful family, she will continue to write mysteries for some time to come for her avid readers.
Follow the author on social media:
Learn more about the writer. Visit the Author's Website
Facebook Fan Page
Twitter