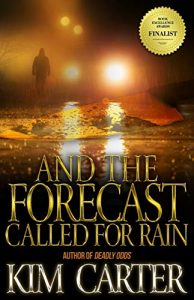 "About And The Forecast Called For Rain:
"It's Beginning to Rain Murder in Seatle"…
Detective Jose Ramirez and the Sierra Hills Police Department are scrambling for leads on a killer who has already struck five times, each time leaving his signature trademark: large butcher knives piercing the abdomens of his young female victims. Profiling the killer is proving to be difficult, and Detective Ramirez knows that it's only a matter of time before their perpetrator strikes again.
As if Ramirez isn't frustrated enough, to his dismay, he is assigned a partner. Officer Daniel Chatham, a handsome, young man, fresh out of grad school, and a little straight-laced has pulled some strings to join the division and becomes Ramirez's, right-hand man. The lead detective's anger slowly begins to dissipate as he discovers the book-smart kid can be quite the asset.
With Ramirez's experience, Chatham's sharp mind and quick thinking, and the insight of Erin Sommers, a beautiful, young journalist, the three make a powerful team gaining on their criminal.
"It's raining… it's pouring, and a killer is on the loose in the rainy Sierra Hills of Washington State."
No one is who they seem, and the plot thickens with every turn.
You'll never guess the ending of this enigmatic tale …
Targeted Age Group: 20+
Written by: Kim Carter Mysteries
Buy the ebook:
Buy the Book On Amazon

Buy the Print Book:
Buy the Book On Amazon
Buy the Book On Good Reads
Author Bio:
"Kim Carter Mysteries Chosen Gold and Silver Finalists from Book Excellence Awards and Killer Nashville Silver Falchion Awards and #1 Best Mystery 2017 from TCK Publishing Readers Choice Awards!"
Kim Carter is an award-winning author of suspense, mystery and thriller novels.
She was a finalist for the 2018 Killer Nashville Silver Falchion Award and a recipient of the 2017 TCK Publishers' Readers' Choice Award for her book Murder Among The Tombstones. This is the first book in her Clara and Iris Mystery series. The characters in this series are a couple of overly curious widows who become private investigators. These funny women were inspired by Kim's mother and her mom's best friend.
Her other titles include Sweet Dreams, Baby Belle, When Dawn Never Comes, Deadly Odds, No Second Chances, and her latest, And The Forecast Called For Rain.
Kim's writing career started after she suffered an illness that made her housebound for a couple of years. An avid reader of mystery novels herself, she embarked on writing as a means of filling her time. She began to share those early writings with friends and family who encouraged her to pursue writing professionally. Her health struggles and successes have been chronicled on The Lifetime Television in early 2000, The Atlanta-Journal Constitution, Women's Day Magazine, and Guidepost.
Prior to her illness, Kim worked in many different capacities in county government as her "Day Job," but ultimately, it was her job as a correctional officer that provided her the opportunities to talk and interact with a diverse group of people. Her experiences ran the gamete of inspiring success stories to tragic endings, much like her mysteries.
She self-published her first book No Second Chances. One of the guest speakers at the launch party she had at the Performing Arts Center in Newnan, Georgia included her close friend retired Atlanta Police Chief Eldrin Bell. This connection would become helpful as she started doing more research for other books, this time working with a small publishing house.
Kim began networking and made connections with numerous homicide detectives, medical examiners, and prison officials. Her research has taken her many places including morgues, death row, and the occasional midnight visit to cemeteries.
Kim is a college graduate of Saint Leo University with a Bachelor of Arts in Sociology. She and her husband have three successful grown children and reside just outside of Atlanta, Georgia.
You can learn more about Kim and updates on new book releases and events by visiting her Official Author Website –
Follow the author on social media:
Learn more about the writer. Visit the Author's Website
Facebook Fan Page
Twitter
Instagram
This site contains affiliate links to products. We may receive a commission for purchases made through these links.