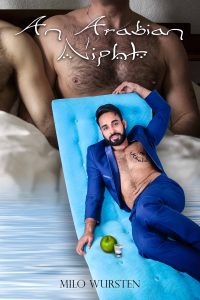 "About An Arabian Night:
Galahad and Steve are still trying to find their footing in a new marriage as a gay couple, and each feels like they have taken the leap a little too quickly. They decide to go on an expensive boat cruise to save their relationship. All hell breaks loose when Steve meets Khalid, a wealthy Arabian royal who has fallen hopelessly for Steve. Events quickly unfold as Galahad goes beyond the call of duty to save his dying marriage. Are the vows of marriage enough to keep them together or will an Arabian night shatter the bonds of their union?
Targeted Age Group: Adults only
Written by: Milo Wursten
Buy the ebook:
Buy the Book On Amazon

Buy the Audio Book:
Buy the Book On Amazon
Buy the Book On Audible
Buy the Print Book:
Buy the Book On Amazon
Author Bio:
An Arabian Night is the second novel from the series Gay Sea Stories by Milo Wursten.
Each story takes place on a boat, yacht or a cruise liner where Milo worked as a bartender for several years. He listened to different stories from his guests and always had a passion for telling stories too. So now he has put some of those stories to paper, for you to enjoy and relax with. Of course, don´t take them seriously, they are written to entertain you. They are only fiction, fantasies, says Milo Wursten, but, in each fantasy, there is a little bit of truth, he adds smiling.
This site contains affiliate links to products. We may receive a commission for purchases made through these links.