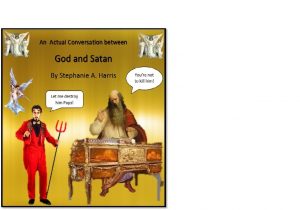 About An actual conversation between God and Satan:
Have you ever wondered how God and Satan communicates? Have you ever wondered how they actual talk to each other in real-time conversations? I'm talking, face to face conversations. Do they say the love or hate each other? What do they say about us humans? How do they both empower, complain, punish or react to the sins we commit on earth? This book will answer these questions and much more. It's a comedy, based on a true story that builds knowledge, wisdom and understanding, but will also bring you to tears and make you laugh. Most importantly, it will teach you how much power you do or do not have over everything in life.
Buy the ebook:
Buy the Book On Amazon

Author Bio:
Stephanie A. Harris was born and raised in Washington, D.C. Her given name at birth was Stephanie Angela Campbell. She attended Immaculate Conception High School and continued her education at the University of the District of Columbia and Prince George's community College. She enjoys studying Sociology and Psychology. She is the CEO of, "Something Useful, Inc, a Entrepreneur Company that creates inventions. She is the Author of, "The Wonders of Monkey Mac" a wonderful children's book and "How to Meet God in 3 Hours" a book for all ages that want to know God quickly. Mrs. Harris volunteers as a Counselor in many fields from Child Development to Financial Consulting. She now devotes her time to her family and writing in Maryland.
Follow the author on social media:
Learn more about the writer. Visit the Author's Website
Twitter