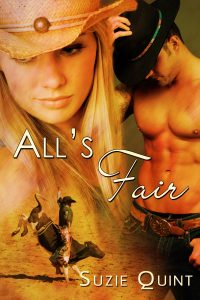 "About All's Fair:
What is a guy who's still in love with his ex-wife supposed to do when he runs into her and her date?
If the man is rodeo bull rider Sol McKnight, he tells lies–big lies–whoppers really–to drive off her date. And when the new suitor is gone? Well, then he really starts playing dirty.
Targeted Age Group: Adult
Written by: Suzie Quint
Buy the ebook:
Buy the Book On Amazon
Buy the Book On Barnes & Noble/Nook
Buy the Book On Smashwords
Buy the Book On Apple Books
Buy the Book On Kobo
Buy the Print Book:
Buy the Book On Amazon
Author Bio:
Suzie Quint has always been fascinated with the human psyche, so she can imagine no better way to explore the human condition than through the characters she writes. Finding the happy ending for the people who inhabit her worlds is the best job anyone could have. Getting to share them with others… It doesn't get any better than that.
Follow the author on social media:
Learn more about the writer. Visit the Author's Website
Facebook Fan Page
This site contains affiliate links to products. We may receive a commission for purchases made through these links.