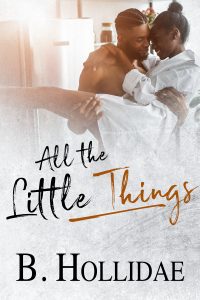 About All the Little Things:
Rafael's and Akilah's Story: An African American New Adult Urban Romance
After fleeing Miami for a new start, Akilah was the last thing I needed.
She was everything I avoided in the past with girls. Opinionated. Assertive. Shrewd. Too curious for her own good. Bold. Daring. The type you didn't want involved when you were running and had something to hide.
I fell for her anyway.
There are a lot of big reasons that I shouldn't be with Akilah. There are a lot of big reasons why I can't be with her.
But shouldn't and can't aren't in her vocabulary. And there are a lot of other reasons, little things really, that I should be with her that outweigh the big things.
But when my past, my abuser, the reason I lived on the streets for three years, the reason I can never go back home, the biggest reason I shouldn't get involved with Akilah, comes knocking on the door, I have a choice to make.
Confront it. Or lose Akilah forever.
Buy the ebook:
Buy the Book On Amazon

Author Bio:
This author goes by many names, all a variation of Hollidae depending on what mood she's in. Lady Dae, Holly Dae etc, but her favorite is B. Hollidae in honor of the woman she was named after, Billie Holiday. At this moment, B. Hollidae is, unfortunately, single–and yes she's been embracing and loving herself but it's old now–going to law school, likes to read and garden, and is obsessed with the pokemon main series video games. Though she's been trying to kick the habit, she still likes to write. Enjoy all the fruits of her habit.
Follow the author on social media:
Learn more about the writer. Visit the Author's Website