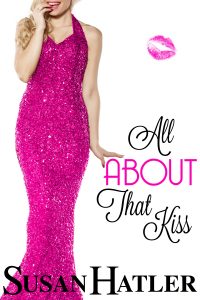 "About All About That Kiss:
City girl Janine Wilson's career is taking off but the same can't be said about her love life. No matter—as manager of the Inn at Blue Moon Bay, Janine's in charge of throwing a huge party to celebrate the Inn's recent expansion and doesn't have time for distractions. Unfortunately, two big ones suddenly show up: her thrill-seeking incompatible ex, Cody, who refuses to accept their breakup, and Cody's handsome and charming best friend, Texas cowboy Jackson Davis.
Reluctantly, Janine agrees to meet Cody for one last dinner because Cody says he has a huge business opportunity for the Inn. But when Cody takes her on a boat ride to show her his great idea, Jackson is at the helm. Janine has been trying to resist her attraction to Jackson because they have no common interests, not to mention he's her ex's best friend. Once they stop on a deserted island, though, Janine doesn't expect the sparks that fly between them, the spontaneous kiss they share, or what Cody does after witnessing said kiss.
Janine was convinced she needed a sophisticated man who shared the same interests as her. Now that she's been stranded on a deserted island with Jackson, will she discover he's everything she never knew she really wanted?
Targeted Age Group: General adult
Written by: Susan Hatler
Buy the ebook:
Buy the Book On Amazon

Author Bio:
SUSAN HATLER is a New York Times and USA TODAY bestselling author, who writes humorous and emotional contemporary romance and young adult novels. Many of Susan's books have been translated into German, Spanish, French, and Italian. A natural optimist, she believes life is amazing, people are fascinating, and imagination is endless. She loves spending time with her characters and hopes you do, too.
Follow the author on social media:
Learn more about the writer. Visit the Author's Website
Facebook Fan Page
Twitter
This site contains affiliate links to products. We may receive a commission for purchases made through these links.