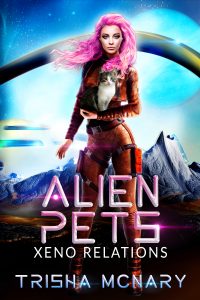 "About Alien Pets:
Life gets weird when you're adopted by an alien. One million years in the future, young human Antaska and her psychic cat are adopted as pets by a gigantic alien. Traveling in outer space, she becomes telepathic in a world where that's dangerous. Then she gets into a love triangle that's even more dangerous. Her cat tries to tell Antaska what she's doing wrong, but will she listen?
Buy the ebook:
Buy the Book On Amazon

Author Bio:
One day about four years ago, after a having a vivid dream about aliens the night before, I had to drive across my state to an appointment. The sky started pouring down unexpected snow, even though it was early spring. The trip that should have taken four hours turned into four hours just to get a third of the way. During that time, I started writing a book in my head based on that dream–or maybe the book started writing itself. I never made it to that appointment, but when I got back, I felt like I had to write that book. In the years that followed, more dreams came that filled in the plot for three books.
Follow the author on social media:
Twitter
This site contains affiliate links to products. We may receive a commission for purchases made through these links.