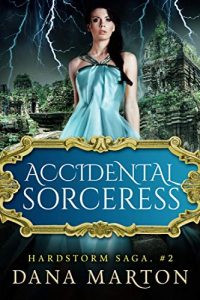 "About Accidental Sorceress:
Tera, a powerful healer, travels with her beloved warrior, the High Lord Batumar, on a secret mission to forge alliances to stop the bloodthirsty Emperor Drakhar. Surviving vicious pirates, slave traders, and an ancient enemy of dark power is only the beginning. The journey brings Tera unimaginable hardships and loss, testing her spirit and heart as she gathers her own allies and fulfills her destiny. Adding a tiger and a wraith as companions on her journey, Tera struggles to survive with her wits and healing skills while protecting her light from the dark power that seeks to claim her.
Targeted Age Group: 18-48
Written by: Dana Marton
Buy the ebook:
Buy the Book On Amazon

Author Bio:
USA Today and New York Times bestselling author Dana Marton writes stories you can sink your teeth into, whether it's heart-pounding romantic suspense or epic fantasy romance. Kirkus Reviews calls her writing "compelling and honest." RT Book Review Magazine says," Marton knows what makes a hero…her characters are sure to become reader favorites." While USA Today magazine declared her latest release "must-read romantic suspense." Dana is the winner of the Daphne du Maurier Award of Excellence, the Readers' Choice Award, and the RITA Award–the highest industry award for romance. She has written over 50 novels, which have been translated into twenty or so languages, and sold over three million copies world-wide.
After studying business, Dana began her career in the corporate world, but snapped out of that silliness real fast and went back to college to learn about writing at Seton Hill University and then at Harvard University. She finds that life is much more rewarding when you're following your passion and doing what you were meant to do. If you have a dream, go for it and don't look back!
Follow the author on social media:
Learn more about the writer. Visit the Author's Website
Facebook Fan Page
Twitter
This site contains affiliate links to products. We may receive a commission for purchases made through these links.