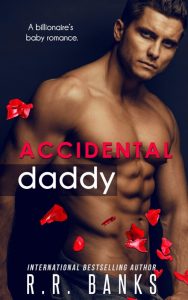 About Accidental Fiance:
Alpha Billionaire. Fierce Protector. Perfect (Fake) Fiancé.
"My cheating ex will be there. Please help me…"
Roxie needed a date for a wedding.
I'll pretend to be her boyfriend.
One week, no strings attached.
Sounds easy enough, right?
Then I saw her for the first time.
Sexy as hell with a fiery personality to match.
F*ck boyfriend. I'll take it even farther.
I'll be the perfect fake fiancé.
Tell her friends and family all the right things.
Take care of her like no other man could.
She'll forget all about her lying ex.
Screw pretending. I'll make her mine.
And claim every inch of her sweet curves.
But Roxie found out my secret. And ran.
Will she forgive me or will it cost us everything?
Buy the ebook:
Buy the Book On Amazon

Author Bio:
USA Today Bestselling Author, International Bestselling Author, and Author of multiple Amazon Top 20 Bestselling Books.
Follow the author on social media:
Facebook Fan Page