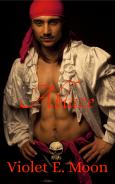 "About Ablaze by Violet Elizabeth Moon:
Boy billionaire Desmond De La Rosa has been missing for six months.
His fiancée, aspiring musician Mia Kealoha, has not seen or heard from him since. She yearns for his return, but has moved on with her life and now works at one of Honolulu's most prestigious banks. Mia is half hope, half heartache, until one day her workplace is attacked—by pirates! And Desmond is among them.
The one that got away came back…
…and he's as sexy as ever. Why did Desmond leave, and can Mia rescue him in time? Can she resist his erotic charms or will they consume her? And after everything that's happened, will their love still prevail?
Ablaze is a sensual blend of romantic comedy and romantic suspense, starring a brilliant BBW and a protective alpha male. The book sheds light on invisible illnesses like OCD and on lesser known GYN conditions like adenomyosis. It also addresses issues such as classism and workplace sexism and will leave the reader empowered by how the characters approach these conflicts. Mia's best friend, Madison, is witty and entertaining and always there for her.
The stakes are high and the tension is thick, and the ending is a delight.
Targeted Age Group: Adult
Written by: Violet Elizabeth Moon
Buy the ebook:
Buy the Book On Amazon
Buy the Book On Barnes & Noble/Nook
Buy the Book On Smashwords
Buy the Book On Kobo
Author Bio:
Violet Elizabeth Moon is an official member of Romance Writers of America. Ablaze is her second published romance, the first being Enigma. Both books are part of her debut series, Technicolor Love, which focuses on interracial second chance erotic romances. She intends for the series to have seven books in total.
Violet wishes to leave her readers feeling happy, confident, and unlimited. She strives to help her readers figure out what they want in relationships, and recognize what a healthy one looks like. She is passionate about advocating for the treatment of women's health issues and invisible illnesses and is intent on incorporating them in each of her books.
Follow the author on social media:
Learn more about the writer. Visit the Author's Website
Facebook Fan Page
Twitter
Instagram
This site contains affiliate links to products. We may receive a commission for purchases made through these links.