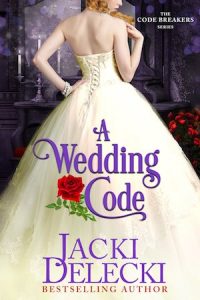 "About A Wedding Code:
As a renowned arbiter of fashion and design, Miss Amelia Bonnington's upcoming nuptials to Lord Derrick Brinsley have become the most anticipated event of English society. Her plans to create the perfect wedding must be cast aside, however, when her best friend's brother, a member of England's top code breaking family, disappears.
When his fiancée meddles in dangerous spy activity, Derrick, an undercover agent for His Majesty, must intervene. Now, it's up to Amelia and Derrick to safely locate the missing brother, prevent another abduction, and thwart an assassination. Can they outwit the French spies and still have Amelia's fairy tale wedding?
Targeted Age Group: Adult
Written by: Jacki Delecki
Buy the ebook:
Buy the Book On Amazon
Buy the Book On Barnes & Noble/Nook
Buy the Book On Apple Books
Buy the Book On Kobo
Author Bio:
Jacki Delecki is a bestselling romantic suspense author whose stories are filled with heart-pounding adventure, danger, intrigue, and romance. Her books have consistently received rave reviews, and AN INNER FIRE was chosen as an Editor's Selection by USA Today. Currently, she has three series: the contemporary romantic suspense Impossible Mission, featuring Delta Force operatives; Grayce Walters, contemporary romantic suspense following a Seattle animal acupuncturist with a nose for crime; and the Code Breakers, Regency suspenses set against the backdrop of the Napoleonic Wars. Delecki's stories reflect her lifelong love affair with the arts and history. When not writing, she volunteers for Seattle's Ballet and Opera Companies, and leads children's tours of Pike Street Market.
Follow the author on social media:
Learn more about the writer. Visit the Author's Website
Facebook Fan Page
Twitter
Instagram
This site contains affiliate links to products. We may receive a commission for purchases made through these links.