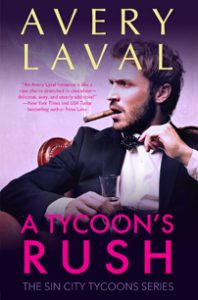 "About A Tycoon's Rush:
From author Avery Laval, an Amazon #1 bestseller about a determined sports agent and a reclusive Olympic hero.
She heads to the Italian mountains to bring an Olympic hero back home. But will she lose her heart instead?
Natalie Schaffer has accepted that she'll always be an assistant at her sports agency. That's okay—her dream job is her outdoor photography, not the wheeling and dealing of agency life. But she jumps at the chance to take an endorsement deal to the reclusive Olympic champion Charlie Ahlers, who stepped off the gold medal podium and disappeared from public eye. Natalie never crushes on her agency's clients, but Charlie holds a special place in her heart—from a distance, of course.
Charlie Ahlers is perfectly happy hiding out as a nobody in sleepy European ski towns. He knows he's supposed to capitalize on his Olympic victory and train for the next Games. But, for reasons that are his own, his heart isn't in it. When the sexy American girl prances into his bar and slaps a contract down next to his glass of scotch, he can't believe she's an agency rep. He hasn't found a girl so interesting in months. When she dares him to take her out on the slopes, he can't tell her no. When skiing turns into dinner—and more—he realizes he might be in bigger trouble than he thought.
With Natalie's agency job on the line, and Charlie's secrets holding him back, will they be able to let go of their fears and find hope—and happiness—together?
Targeted Age Group: 18+
Written by: Avery Laval
Buy the ebook:
Buy the Book On Amazon
Author Bio:
Avery Laval writes romantic fiction. Her Sin City Tycoons series launched with A Tycoon's Jewel, and continues with A Tycoon's Rush and A Tycoon's Secret. Avery lives in the midwest and teaches creative writing when she's not writing novels. She loves sailing, sipping sweet cocktails, and hanging out with her friends. She's got a soft spot for dogs, a real weakness for guys with dimples, and is always dreaming of the next swoon-worthy love story.
Follow the author on social media:
Learn more about the writer. Visit the Author's Website
Twitter
This site contains affiliate links to products. We may receive a commission for purchases made through these links.