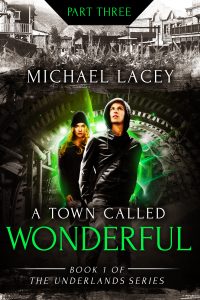 About A Town Called Wonderful, Part 3 of 4: from Book 1 of The Underlands Series:
Part 3 finds our searchers in the most harrowing part of their adventure so far. Having just found out who Sheriff really is, the young couple is shaken. However, they become closer than ever while facing each setback together. Everything is threatened in this installment, but the possibilities of Thomas's Luminant abilities give them hope, hope that escape is actually an option.
The pace picks up again as Thomas and Emily get separated by the most devastating event yet. Will they find each other again? Can they still escape now? Thomas must be the man he knows he can be, get a grasp on his powers, and let something bigger guide him.
Buy the ebook:
Buy the Book On Amazon

Author Bio:
Michael Lacey writes from intimate moments pain—losing his eye in a lawn dart accident at age 11 or losing his mother in 2017—but he strives to keep moving forward. He understands the value of experiencing emotions and giving them the space to move, but pushes towards resolution and closure in the most encouraging ways. He is driven by the pursuit of purpose and hopes his books will help others chase their own true callings.
He's always dreaming up new adventures for Underlanders as well as entirely new stories. By writing consistently, Michael is working towards a life where he can spend more time each day with his soon-to-be growing family. Keep up with him on Facebook, Instagram, or at MichaelLacey.me.
Follow the author on social media:
Learn more about the writer. Visit the Author's Website
Facebook Fan Page
Twitter
Instagram