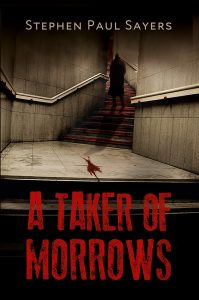 About A Taker of Morrows:
RG Granville has his whole life in front of him…but only twenty-four hours to live it.
Beyond life's boundaries, an enduring battle between good and evil determines the fate of earthly souls. Here, 'caretakers' guard and protect against the evil and vengeful 'jumpers' who slip back and forth between worlds to prey upon the living.
For one man, news of his impending demise sets off a deadly chain of events fueled by a jumper's burning vengeance. Now he's in a race against time to stop an unrelenting evil unleashed upon the earth. And if he's to protect his family, and the world, he must breach the tenuous boundary between life and death to confront a killer–and a shocking secret from his long-buried past.
Buy the ebook:
Buy the Book On Amazon

Author Bio:
Stephen Paul Sayers is a college professor and best selling author of supernatural thriller and horror fiction. His debut novel, A Taker of Morrows, was published by Hydra Publications in June 2018. The second book in the Caretakers series, The Soul Dweller, is set for a December 2018 release. His short fiction has appeared in Unfading Daydream and Well-Versed.
As a research scientist, Stephen yields to the left-brain world of data analysis and statistical formulae by day, but releases the demons in his slightly twisted right-brain by night. It gets strange around dusk when neither side is fully in control. He makes his home in Columbia, MO and Plymouth, MA—not far from the Cape Cod locations he writes about in the Caretakers novels. Throughout his journey, he has accumulated five guitars, four herniated discs, three academic degrees, two dogs, and one wife, son, and daughter. But not in that order.
Follow the author on social media:
Learn more about the writer. Visit the Author's Website
Facebook Fan Page
Twitter
Instagram
This site contains affiliate links to products. We may receive a commission for purchases made through these links.