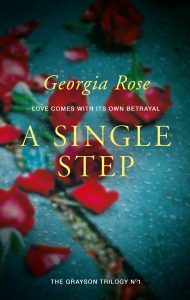 "About A Single Step:
A woman wracked with grief. A man with a troubled past. Will trust build a bridge between them or will it be destroyed by dark secrets?
Shattered by her daughter's death and tormented by her husband's infidelity, Emma Grayson seeks refuge in solitude. As she slowly re-enters the real world, she takes on work at the sprawling Melton Estate's stables. Initially distracted by her painful healing process, she realizes that the property's handsome manager carries his own sadness…
When Emma is thrown from her horse and badly injured, Trent provides tender, selfless care. She doesn't want to appear ungrateful for the lonely ex-RAF man's support, but her anxiety keeps her silent. After his secretive past surfaces and events take a dramatic turn at the estate, she can't help but feel violently unsaddled all over again.
Will Emma ever find inner peace and love again, or is she destined to live with only heartache and pain?
A Single Step is the first book in the Grayson Trilogy, a dark romantic suspense series. If you like wounded characters, slow-building romance, and page-turning twists, then you'll love Georgia Rose's powerful novel.
Download A Single Step to uncover a heartbreaking English tale today!
Targeted Age Group: Adult
Written by: Georgia Rose
Buy the ebook:
Buy the Book On Amazon
Buy the Book On Barnes & Noble/Nook
Buy the Book On Apple Books
Buy the Book On Kobo
Buy the Print Book:
Buy the Book On Amazon
Buy the Book On Barnes & Noble/Nook
Author Bio:
Georgia Rose is a writer and the author of the romantic and suspenseful Grayson Trilogy books: A Single Step, Before the Dawn and Thicker than Water. Following completion of the trilogy she was asked for more and so wrote a short story, The Joker, which is based on a favourite character from the series and the eBook is available to download for free at the retailer site of your choice.
Her fourth novel, Parallel Lies, encompasses crime along with Georgia's usual blending of genre.
Georgia's background in countryside living, riding, instructing and working with horses has provided the knowledge needed for some of her storylines; the others are a product of her passion for people watching and her overactive imagination.
Following a long stint working in the law Georgia set up her own business providing administration services for other companies which she does to this day managing to entwine that work along with her writing.
Her busy life is set in a tranquil part of rural Cambridgeshire in the UK where she lives with her much neglected husband and dog. Their son, currently at university, comes and goes and their daughter, having delighted them all for long enough, has eventually moved out, married, and is discovering the joys of being all grown up and having a mortgage.
Follow the author on social media:
Learn more about the writer. Visit the Author's Website
Facebook Fan Page
Twitter
Instagram
This site contains affiliate links to products. We may receive a commission for purchases made through these links.