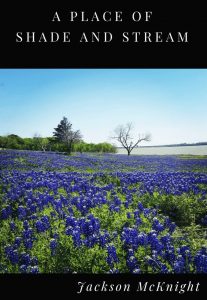 "About A Place of Shade and Stream by Jackson McKnight:
Colton Cormack is a shy, sensitive teenager growing up on Sugar Plum Creek in rural Texas. With guidance and wisdom from his elderly neighbor Dodger, Colton overcomes his fears to forge a relationship with his new neighbor and classmate Caroline Dowd. They spend time together over the summer at a long-lost swimming hole and as their friendship grows, Colton is faced with the monumental task of expressing his true feelings for Caroline. As Colton experiences the unexpected and heart-wrenching realities of life, he must abandon the ways of his youth and face the future with newfound strength and courage. Compelling, hopeful, and bittersweet, A Place of Shade and Stream explores the enduring complexity of adolescence, love, and innocence lost.
Targeted Age Group: 18-50
Written by: Jackson McKnight
Buy the ebook:
Buy the Book On Amazon

Author Bio:
Jackson McKnight is a lifelong lover of great stories. Born and raised in Texas, he enjoys the great outdoors and spending time with his family. When not behind a computer, Jackson enjoys hiking and canoeing and pursuing adventures. You can contact him at JacksonMcKnight40@gmail.com
This site contains affiliate links to products. We may receive a commission for purchases made through these links.