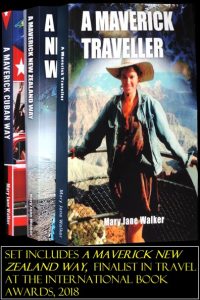 "About A Maverick Traveller Anthology:
A Maverick Traveller Anthology contains the first three of Kiwi adventurer Mary Jane Walker's travel memoirs: A Maverick Traveller, A Maverick New Zealand Way, and A Maverick Cuban Way. It's excellent value for money, especially given that it will be on Countdown for US $4.00 or GBP 3.99 for the duration of this promotion.
Mary Jane first became a serious world traveller in an unusual way, when she joined the crew of a Chinese junk being sailed from Canton (now Guangzhou) to Paris via the middle of the Indian Ocean. The junk was crewed by some French hippies and Mary Jane fell in love with the captain. A Maverick Traveller is all about this voyage and Mary Jane's subsequent world travels.
After publishing A Maverick Traveller, which has over 90 photos and maps, Mary Jane then decided to write some more books, starting with A Maverick New Zealand Way, in which she describes her own country from north to south, with an emphasis on out-of-the-way places and hiking trails that many non-New Zealanders would never find out about otherwise. A Maverick New Zealand Way has more than 600 photos and maps! It was also a finalist in Travel at the International Book Awards in April, 2018.
A Maverick Cuban Way describes a visit to Cuba, which Mary Jane made after the death of Fidel Castro and shortly after the 2016 US elections as well. In A Maverick Cuban Way, with 247 images, Mary Jane talks about the history of Cuba and its cultural connections, while at the same time describing her travels to a wide range of localities, mostly by bus, and the opinions of the local people in a time of transition.
All three books are on sale individually (both Kindle/epub and paperback), and come with favorable reviews.
Targeted Age Group: All – General Trade
Written by: Mary Jane Walker
Buy the ebook:
Buy the Book On Amazon
Author Bio:
Mary Jane has a blog called A Maverick Traveller and posts frequently on Medium, where she joined the ranks of Top Writers in Travel for a time in 2018. Her blog operates totally without commercial sponsorship, a fact rare in the world of serious travel blogging. A lot of her travel is off the beaten track and in places that aren't touristy, including some of the more obscure parts of her own country. And all of it is authentic.
She has seven books published so far. Mary Jane first became a serious traveller when she joined the crew of a long-distance Chinese junk, an episode she describes in A Maverick Traveller. Her hobbies include trekking and mountaineering, and there is a fair bit of both in her books. Altogether, Mary Jane is a Maverick and has her own unique voice!
Follow the author on social media:
Learn more about the writer. Visit the Author's Website
Facebook Fan Page
Twitter
Instagram
This site contains affiliate links to products. We may receive a commission for purchases made through these links.