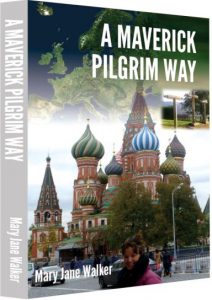 "About A Maverick Pilgrim Way:
Not just for the religious, A Maverick Pilgrim Way is the fourth in a series of lively travel memoirs by New Zealand adventurer and political scholar Mary Jane Walker.
With 581 images, A Maverick Pilgrim Way describes Mary Jane's adventures on the pilgrim trails of Europe and the Mediterranean and in the surrounding cultural landscapes. Mary Jane also reflects on architecture and history in the regions she visits.
For the week of this promotion, A Maverick Pilgrim Way will be on Kindle Countdown, selling at 99 cents on Amazon.com in the USA (normally $5.99) and for 99 p on Amazon.co.uk in the UK (normally GBP 5.99).
Another book by Mary Jane, A Maverick New Zealand Way, was a finalist in Travel in the International Book Awards, 2018!
Targeted Age Group: All – General Trade
Written by: Mary Jane Walker
Buy the ebook:
Buy the Book On Amazon
Buy the Print Book:
Buy the Book On Amazon
Author Bio:
Mary Jane has a blog called A Maverick Traveller and posts frequently on Medium, where she joined the ranks of Top Writers in Travel for a time in 2018. Her blog operates totally without commercial sponsorship, a fact rare in the world of serious travel blogging. A lot of her travel is off the beaten track and in places that aren't touristy, including some of the more obscure parts of her own country. And all of it is authentic.
She has seven books published so far. Mary Jane first became a serious traveller when she joined the crew of a Chinese junk being sailed from Canton (now Guangzhou) to Paris by French hippies in the 1980s. Her hobbies include trekking and mountaineering, and there is a fair bit of both in A Maverick Pilgrim Way. Altogether, Mary Jane is a Maverick and has her own unique voice!
Follow the author on social media:
Learn more about the writer. Visit the Author's Website
Facebook Fan Page
Twitter
Instagram
This site contains affiliate links to products. We may receive a commission for purchases made through these links.