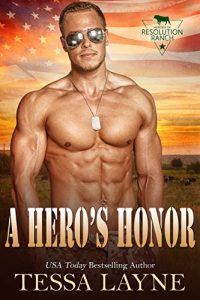 "About A Hero's Honor by Tessa Layne:
FREE For the Month of February!!!
A Hero's Honor
What happens when the war comes home?
A captivating new series from USA Today Bestselling Author, Tessa Layne, featuring your favorite characters from the Cowboys of the Flint Hills series
Police Chief Travis Kincaid Has Rules….
· Never leave the door unlocked
· Never mix work and pleasure
· And Never, Never kiss the object of your affection
Years ago, the former Navy SEAL learned the hard way that breaking the rules only leads to disaster. Since then, he's followed strict rules to stay focused on his career and keep his heart locked away where it won't cloud his judgment.
Too bad the woman he's fallen for was a born rule-breaker.
In spite of her shady past, Travis finds himself bending the rules… repeatedly, for single-mom Elaine Ryder. In the aftermath of Prairie's devastating tornado, Travis must come to a decision about his future. More importantly, he'll have to decide whether breaking the rules one last time will cost him everything he holds dear… or give him his heart's desire.
Targeted Age Group: 18+
Written by: Tessa Layne
Buy the ebook:
Buy the Book On Amazon
Buy the Book On Barnes & Noble/Nook
Buy the Book On Apple Books
Buy the Book On Kobo
Author Bio:
USA Today Bestselling Author Tessa Layne loves urban jungles, wild places, and writing about tenderhearted tough guys and the smart, sassy women they fall for.
Follow the author on social media:
Learn more about the writer. Visit the Author's Website
Facebook Fan Page
Twitter
This site contains affiliate links to products. We may receive a commission for purchases made through these links.