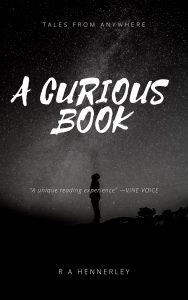 "About A Curious Book:
A Troll inflicts a bloody revenge on a family of evil, murdering Bankers.
A beautiful, compassionate, campaigning Princess falls foul of The Establishment and meets a tragic, and suspicious, end.
A dignified and proud old lady, haunted by the deafening silence of her life, embarks upon a final, incredible journey.
A shoemaker decides he will make only size seven, left foot shoes. Has he gone mad? Or does he know something no-one else does?
A selfish, self-absorbed woman is embarrassed by her gay son and has him committed to The Asylum for the Strange and the Different – will he survive in such a desperate place?
Who is the The Old Man In The Mountain and why has he spent an eternity crafting the most beautiful shoes ever seen?
The Souls of a Mother and her Son dance across a broad, bright blue sky with a complexity as intense and beautiful as the irresistible, flawless logic of a Mathematical Equation or the eye-catching wonder of a Murmuration Of Starlings.
A lonely, bullied teenage boy suddenly and mysteriously sprouts a huge pair of Angel's wings.
How does a man who loves and understands numbers more than he does people find true companionship?
Why do Faeries' tears turn into diamonds as they fall to the ground for tears and why do they steal children?
Welcome to Anywhere. A world ruled over by a tiny elite of dangerous psychopaths – a world where might is right and money is king. Welcome to a land where love, compassion and the Soul lie forgotten, replaced by a shallow culture of unsustainable consumption – and only Fairies and Trolls, mocked and despised by humans who have been lulled into complacency by shiny bling and celebrity, fight for decency and goodness.
Welcome to Anywhere. Welcome to your own world, here and now.
23 curious tales to help you stay human in a world ruled by maniacs!
Targeted Age Group: 16-80
Written by: R A Hennerley
Buy the ebook:
Buy the Book On Amazon
Buy the Print Book:
Buy the Book On Amazon
Author Bio:
The author has, by accident and design, reached an age often described by those who profess to know these things as 'difficult'. He has issues with what is real and what is imaginary and is to be found malingering with malice aforethought some where near the end of a sentence beginning with the words 'Once upon a time…'
Follow the author on social media:
Twitter
This site contains affiliate links to products. We may receive a commission for purchases made through these links.