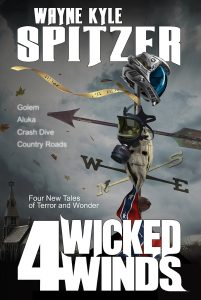 "About 4 Wicked Winds: Four New Tales of Terror and Wonder:
One wind is for a Jewish father, who calls up an unspeakable evil to avenge his son. Another is for an intersex hero caught up in a battle between men and women. Still another is for an astronaut thrown into black hole, where he sees the Face of God. Yet one more is for the hooded men who prowl the Kentucky night …
Targeted Age Group: teenagers, adults
Written by: Wayne Kyle Spitzer
Illustrated by: Wayne Kyle Spitzer
Buy the ebook:
Buy the Book On Amazon
Buy the Book On Barnes & Noble/Nook
Buy the Book On Smashwords
Buy the Book On Kobo
Buy the Print Book:
Buy the Book On Amazon
Author Bio:
Wayne Kyle Spitzer (born July 15, 1966) is an American author and low-budget horror filmmaker from Spokane, Washington. He is the writer/director of the short horror film, Shadows in the Garden, as well as the author of Flashback, an SF/horror novel published in 1993. Spitzer's non-genre writing has appeared in subTerrain Magazine: Strong Words for a Polite Nation and Columbia: The Magazine of Northwest History. His recent fiction includes The Ferryman Pentalogy, consisting of Comes a Ferryman, The Tempter and the Taker, The Pierced Veil, Black Hole, White Fountain, and To the End of Ursathrax, as well as The X-Ray Rider Trilogy and a screen adaptation of Algernon Blackwood's "The Willows."
Follow the author on social media:
Learn more about the writer. Visit the Author's Website
Facebook Fan Page
This site contains affiliate links to products. We may receive a commission for purchases made through these links.