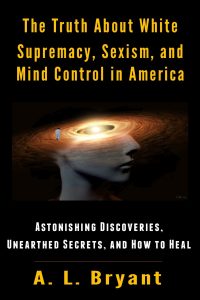 About The Truth About White Supremacy, Sexism, and Mind Control in America:
Review by Selfina Hawke:
"Are you ready to open your mind to the truth of these dark aspects that have been plaguing America for years?"
"The Truth About White Supremacy, Sexism, and Mind Control in America by A.L. Bryant is first and foremost an interesting book that provides a whole new perspective on some of the critical issues that are plaguing America. I liked how the author delved into the psychology of the issues as the author presented not just the proven facts, but also the impact of the mind in them. I found the examination of mind control to be my favorite part as it had the most psychology involved in it. Overall, this book taught me more about these issues than I ever knew."
Review by Arya Fomonyuy:
"Here is a book that explores the psychology of racism, sexism, and intolerance in American society, a book that explains why and how America has come to this point, and how to heal the festering wounds that have eaten deeply into society."
"A.L. Bryant's writing is ruthlessly honest and fearlessly simple, and it comes as a clarion call to contemporary men and women to open their eyes to reality, to reject trends of thought that are used by a tiny few to control the masses, and to face reality with courage. I was stunned by some of the facts presented in this book."
Review by Gisela Dixon:
"I love this book and found myself agreeing with almost everything written in these chapters. The Truth About White Supremacy, Sexism, and Mind Control in America by A.L. Bryant is written well, formatted cleanly, and keeps the message pertinent, factual, and brief. There are case examples to back up the relevant facts and references at the end of the book. Another reason I felt that the author knew exactly what he was talking about is because of how effortlessly he seems to be able to converse equally knowledgeably about matters of ancient Vedic philosophy, spirituality, and enlightenment."
Buy the ebook:
Buy the Book On Amazon
Buy the Book On Barnes & Noble/Nook
Buy the Book On iBooks/iTunes
Buy the Book On Kobo

Author Bio:
A. L. Bryant is a former journalist, with articles published in the San Diego Independent newspaper and on popular blog sites. In 2003, Bryant won a literary award for a children's story.
Approaching every piece from the human perspective, Bryant has always sought to uncover, not just the facts, but the real issues behind the story. During this discovery process, and through personal interactions spanning over 25 years, Bryant is exposing tangible evidence about why some things occur in society.
Follow the author on social media:
Learn more about the writer. Visit the Author's Website
Facebook Fan Page
Twitter