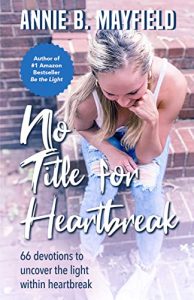 About No Title for Heartbreak by Annie Mayfield:
Doubtful. Scared. Fearful. Paralyzed.
A shattered heart leaves you with all. Whether it be a breakup, a friendship that fell apart, a family member that passed away, or the destruction of your preconceived life plan; the pain of loss consumes you like nothing else. Perhaps the only thing more painful than a broken heart, is sitting in your brokenness alone.
Someone once told me that getting adjusted to a broken heart is like breaking a habit (that habit being the way your heart was prior to its breaking), and that it takes 66 days to break a habit. With that in mind, this 66 day devotional is designed to reintroduce you to God's truth within the most vulnerable time of your heartbreak. A guiding principle to remind you that no matter what pain you are feeling, you are never alone.
Targeted Age Group: 18-75
Written by: Annie Mayfield
Buy the ebook:
Buy the Book On Amazon

Author Bio:
Annie Mayfield is a 23 year old lifestyle entrepreneur and wellness enthusiast.
She published her first book at 19, went on to become an Amazon #1 New Release author with
her second book, Be the Light: a Devotional, and shortly afterwards published her third Dear,
Beautiful Me. She launched her first podcast, Made to Shine, in 2020 and it is currently
streamed by individuals in 24 countries.
Annie's faith and family are the absolute lights of her life. Her family – McRae, Lizzie, James,
Gwen, Beth, and Scott are her constant sources of inspiration and light in her heart.
This site contains affiliate links to products. We may receive a commission for purchases made through these links.