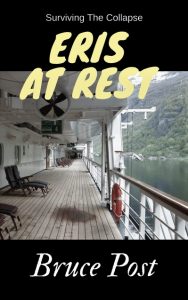 About Eris At Rest:
Captain Willa Freundlich, her crew, and the remaining passengers on the luxury cruise ship The Eris have taken refuge on Little Ragged, a remote deserted island in the Bahamas. There they work to begin new lives for themselves, growing food and fishing, building shelters and doing everything necessary to create a viable community. But they are not the only ones to survive the collapse of civilization. Unknown enemies appear, and The Eris is a tempting target. A group of marauders from nearby Grand Turk is intent on raiding The Eris for her abundant stores, and they are willing to kill anyone to get what they want. Two Cuban mutineers arrive with a stolen submarine armed with torpedoes. Despite their efforts to discourage these predators, the survivors from The Eris will be forced to defend themselves from deadly attacks.
Dave Sturges and his family and friends must find a way to cross the border into the US where they are imprisoned in a slave labor camp and later forced to follow the crazed rituals of a mad cultist. Attacked by wild animals and insane cannibals they cross the midwestern US in hopes of reaching their families in the Northeast.
For everyone it is a desperate struggle to not only survive, but to thrive.
This is the second book in the Eris Series.
Buy the ebook:
Buy the Book On Amazon