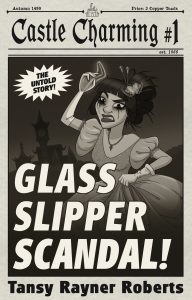 About Glass Slipper Scandal:
Charming is a kingdom where fairy tales come true. This is bad news for its troubled royal family, and good news for the gutter press that thrives on the scandals and gossip provided by their teenage Princes Gone Wild.
Kai is a rookie reporter at the Charming Herald. Dennis is a new Royal Hound, charged with protecting the self-destructive princes from disaster. They come together to solve the mystery of the Midnight Princess… and uncover some secrets that should have stayed hidden!
"So witty, clever, and exuberant – with sharp edges, like glittering glass."
Stephanie Burgis, author of Kat, Incorrigible & The Dragon With The Chocolate Heart.
"An enormously fun take on fairy tales, castles, princesses, falling in love and happy endings, with so much verve and sass and humour as well as thoughtfulness, wit and charm."
Narrelle Harris.
Buy the ebook:
Buy the Book On Amazon
Buy the Book On Barnes & Noble/Nook
Buy the Book On Smashwords
Buy the Book On iBooks/iTunes
Buy the Book On Kobo