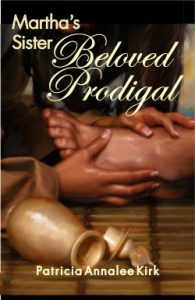 About Martha's Sister Beloved Prodigal:
In her debut novel, "Martha's Sister Beloved Prodigal" Patricia Annalee Kirk pens a historical tale about the controversial fact that Mary of Bethany (sister to Lazarus) was the sinner who washed the feet of the Messiah. Popular thought placed Mary of Magdala in that guise but John 11.2 says otherwise. The book also tells of Lazarus and the contract put out by rulers to end his life.
Read about their everyday lives as they looked behind them for the soldiers who wanted to kill them. They fell in love and earned a living.
Mary left home in a decision that shattered her family. She accepted her Messiah in a dramatic act of love.
* Martha, a popular hostess, found herself shunned for her sister's sin, forsaken by her husband, and no longer marriageable. Mary appeared at her door afraid for her safety. Could Martha forgive?
* After Lazarus followed Jesus, his sisters watched him sicken and die. Stunned, they saw the Lord call him from the tomb. Then the Sanhedrin (Jewish rulers) imposed a price on his head. Alive, he proved the power of God. Did he follow the apostles in martyrdom?
Kirk respects the biblical story without distortion. But how did Mary, Martha, and Lazarus live during the times the Bible doesn't explain? Why did an unmarried man live with single sisters when women yearned for marriage and children? Imagine the sister who ruined the good name of the family as she knocked on the door of her brother and sister. Can she go home again?
"Martha's Sister Beloved Prodigal" takes place in first century AD–the century that altered history. Lazarus' family entertained Jesus in their home. He called Lazarus — dead for four days — from the grave. The rubber legs of a confused man stumbled out of the tomb. Unable to deny God's power after the miracle, they put a price on the head of Jesus — and Lazarus.
Those who loved Jesus suffered as they watched Christ crucified, helpless to stop the horror. Did he die with his work unfinished? They felt cut adrift. And there he stood in their midst. After sharing fish with them, they watched him rise into heaven.
Buy the ebook:
Buy the Book On Amazon
Buy the Book On Barnes & Noble/Nook
Buy the Book On iBooks/iTunes
Buy the Book On Kobo