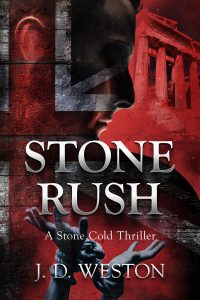 About Stone Rush:
A twisted criminal uses desperate refugees as bait. MI6 is being picked apart. Harvey Stone is a pawn in the play.
When Harvey Stone is lured from retirement into the sickening world of a criminal mastermind, little does he know he'll be pitched against those he loves. But to save the lives of the refugees he must first cut through a ring of rogue agents and gain the higher ground.
Can Harvey survive the cross-fire and save the refugees? And can he stop the twisted criminal's devastating crimes against humanity?
If you enjoy fast-paced action, intense dialogue and characters that come to life before your eyes, you'll love Stone Rush, the sixth book in the Stone Cold Thriller series.
Get Stone Rush and lose yourself in the backstreets of Athens today.
Buy the ebook:
Buy the Book On Amazon